THE ELLING E 3 and E 4 in pictures

ELLING E 4



Elling E-4 Moored in Aalst before leaving to Norway.

Introduction

Dear reader,
When I introduced my idea to launch a new 'auxiliary website' to Anton van den Bos, Elling Director, he was positive from the first moment.

My intention was - and is – to inform you in detail about all qualities and properties of the Elling Yachts. Because all Elling team members are
Perfectionists.

For your pleasure and convenience.
It might not be easy for you - as a future new boat owner – to judge all properties and the overall quality of the yachts that are on your shortlist.

So I decided to portray them in detail in a few hundred pictures. One picture tells you more than a thousand words...

This enables you to quickly build up valuable know how in this specific topic.

Valuable when you have decided to buy a top class motor yacht.

You can read magazines, look into you tube videos and ask owners as well.

This website enables you to inform yourself in your lazy chair or during a few – or more – moments to dream away…

Enjoy it!

My best tip: Visit the ELLING SHIPYARD in Aalst, see and judge all details yourself before you decide to buy a new yacht.

Call Anton van den Bos or your country dealer.

You will not regret it. Guaranteed!

Acknowledgement

Since my photo camera is not too sophisticated, I asked one of the Elling team members to assist me in taking all pictures. Mr. Jan Hotting – cabinet maker at Elling Yachts – has another talent which you can see in nearly all pictures below. He is a professional photographer.
Jan: Many thanks for your help!
Elling: the mission to build the world's best motor yacht in its class
Building a top class motor yacht is not an easy job. For you as a yachting enthusiast we would like to inform you a little deeper about the building process: from the hull to the finished yacht.
The best way to see this complex process for yourself is to bring us a visit, meet the experienced Elling team members and learn a lot about top quality yacht building.
Our Director Mr. Anton van den Bos will be happy to welcome you in Aalst at our shipyard and show you every detail in 'the making of an Elling'.
And August van den Bos, Manager Production- more than 33 years on board of the team (!) - will explain every detail to you and answer all questions. Of course: all Elling team members will do!

After your visit you will have learned a lot about yachtbuilding in general and appreciate the dedication to perfection of the Elling team even more…for your new Elling!

4. Note in advance.

The pictures below show additional and extra equipment in various cases since every Elling yacht is a semi custom built yacht, finished to your wishes. We would like to thank the Norwegian owner for the hospitality on board of his yacht. In Norsk: Tusen Takk & God fart!



Velkommen om bord, but please: no stiletto heels ;-)



Elling yachts are four season Explorer Yachts, perfectly tuned to 'worldwide cruising' and CE A certified!

THE WHEELHOUSE
To start in the Wheelhouse with the most important chair on board:

The Captain's Chair in the Wheelhouse. 'Grand Luxe, Grand Comfort!
Upholstered to your personal taste.

Savas Quality Seating for the Captain's Chair (in many colours available) For more information see: www.savas.be-ge.com

The steering seat is multi-adjustable, also for weight of the captain
(Male and Female). That ensures maximum comfort. Even in rough waters!

Seen from the Captain's Chair: the wheel and instruments.
Note the excellent visibilty all 360 degrees around.
Also: the openable front window for excellent ventilation.
And three independent windscreen wipers and washers (See below).
On the right: venetian blinds for shade and privacy in marina's.



The Venetian Blinds in the Wheelhouse.

Let's go outside for a fresh breeze. Have a look of the wheelhouse outside.



Thermal insulated hardened windows in special insulated (!) window frames. The windscreen wipers.



Detail: in the upper corner you see the safety glass separation




The windscreen washer and.. LED Lighting.



Mushroom ventilation in stainless steel.



As well as 'clamshell' vents'. All Elling yachts feature perfect ventilation, everywhere.
From 11 to 17 portholes, hatches, mechanical ventilation, openable wheelhouse windows
and much much more. It may not seem obvious but make a checklist for the yacht shortlist
of your choice and you will recognize the many, many quality differences.



The openable rear wheelhouse window.




Openable GEBO portholes in every cabin and bathroom


Dedication to detail: the stainless steel protection strip for the boarding steps.





And I personally love the beautiful shapes everywhere.
And the top quality GRP work of Argo and his team!


Passion and Perfection into the smallest detail. The Elling logo and a LED light to illuminate your personal EllingYacht.



Unmistakably Elling! Back to the wheelhouse for your personal tour:





You operate the three windscreen wipers from the instrument panel. All individually operated so maximum comfort.




Above the instrument panel you will find a chart compartment: always at hand. This owner also
choose a Plastimo Bearing Compass plus a wide range of instruments.



To port: a very innovative storage cabinet for your smartphone, tablet with a socket for the charger. More than 250
Elling E-3 and E-4 have led to a level of perfection that is hardly matched in this segment. 20 years ago the mission
was (is and will be) to build the world's best motor yacht in it's class into every single detail (!)




The instrument panel shows you all alarms and warning lights for bilges, blackwater tank, engine room fan, DC AC, generator
etc. Safe and convenient!



Seen from a low position through the steering wheel
Your Personal Elling Owner's Key! (Right).
Let's go sailing and explore the waters of the world!

The throttle and Volvo Trim system panel, ergonomic and placed in an ideal position.


I love it and you will love it to: to steer your own Elling! On the left: the arm of the reading light (See below).


Up to 435 Horse Power at your command!


And at night, nearing anchorages or a marina: a powerful searchlight



Close up of the JABSCO Searchlight mounted on the bow of the yacht.



Then you will love the red night light which can be very useful during long passages or in winter.


On the right of your dashboard: the engine instruments and your Personal Elling Key


Horn, anchor windlass, ligfhts, bow and stern thruster: all clearly arranged and top quality installed!


And - to your own wishes installed: Displays for navigation, Radar, Speed, Wind, Depth and various other instruments
such as a rear view camera amongst others.



Your personal yacht navigation software.



The Raymarine WInd, Depth and Speed Instruments.



The Raymarine Hybrid Touch Multi Funtion Display for radar and plotter etc.




The Raymarine Open Array HD COLOR Radar


And the Raymarine Windset.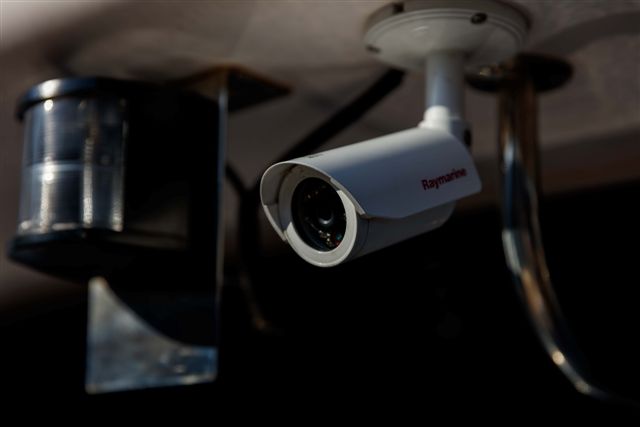 The rear view camera: extra convenience when mooring 'Med Style'

The Raymarine Autopilot Instrument panel.


For the SIDE POWER bow- and sternthruster a remote control
is also available. Extra convenience and safety in locks and when docking.




Remote anchor windlass control (Bow)

Bow plug for remote control


Connector plug


The Anchor Windlass



And the DELTA Anchor

And both this remote control as well as for the anchor chain winch have their own niche in one of the wheelhouse cabinets.


As you can see here: everything perfectly organized.
The two remote controls have their own places!
(WIndlass remote: below).

All Elling technicians take the utmost care to organize
everything the best way for you!
The RaymarineVHF Radio with removable plug.
So if you like more positions: just ask us!

Close Up.


In the Wheelhouse you can also find the thermostat for
central heating and (optional) airconditioning.

Apart from heating: the wheelhouse benefits from optimal ventilation:
> Openable middle front window
> Openable rear wheelhouse window
> Openable sliding convertible roof (!)
So you have a 'convertible' yacht:


In the wheelhouse: two switches to operate the electrical sliding FOUR SEASON openable roof.





In the wheelhouse this owner choose for a KENWOOD radio. And in all cabins: individual radio. We tailor your
A-V-wishes to your liking.
With loudspeakers inside, outside...


Outside FUSION speaker (See: www.fusionentertainment.com)
Every Elling features TOP QUALITY Installation work. Clearly arranged
and well organized.


An example in the wheelhouse: the circuit breakers
all marked.


Concealed in a cherrywood cabinet, near the entrance door.


And Galley and equipment: All perfectly organized as
well as earth leak switch.


And one red switch...




AC separated from 24 DC


And 'digging a little deeper': the conncetors behind the circuit breakers. Plenty space for extension if required.



Here you see the remote control for the SIDE POWER bow and sternthruster. In another cabinet.

And for all systems on board...there is a manual. Plus a quick reference ELLING Instruction manual.

And Richard Wolffers and his colleagues have organized these neatly for your convenience!



Well organized in two suitcases on board for quick retrieval.


Close Up: Well organized.. Our goal is Perfection in Everything with Your Pleasure in mind, every day!



Every Elling even comes with a basic toolset on board. And there is our experienced Leen van Haaften and his team.
For service all over the world.

To be continued shortly